July 14, 2023 – In a significant development, Japanese Display Inc. (JDI) and CSOT, a subsidiary of TCL Technology Group, announced yesterday that they have entered into a mutually beneficial cross-licensing agreement for intellectual property rights. JDI, renowned for its expertise in areas such as liquid crystal display (LCD) panel viewing angles, aims to strengthen its intellectual property licensing business. This strategic collaboration forms part of JDI's initiatives to improve profitability. Notably, CSOT has achieved remarkable success in the large-scale LCD panel market, capturing a considerable share of the overall LCD industry. By partnering with CSOT, JDI stands to gain substantial licensing revenue.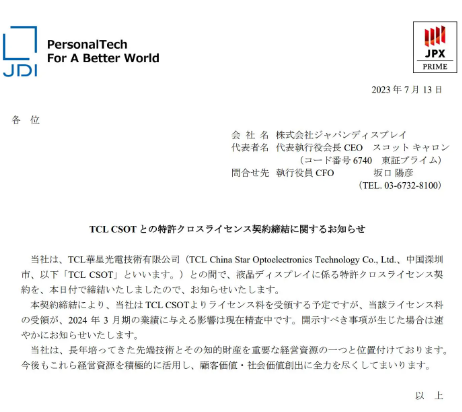 Furthermore, apart from the agreement with CSOT, JDI has also reached a similar intellectual property licensing agreement with Chunghwa Picture Tubes Ltd. (CPT), a leading LCD panel manufacturer based in Taiwan. JDI is currently assessing and evaluating the potential impact of these licensing agreements on its profitability for the fiscal year 2024.
Earlier reports indicated that JDI, known as a supplier to Apple, is expected to incur a consolidated net loss of 47.8 billion Japanese yen during the fiscal year 2023, marking its tenth consecutive year of losses.