August 09, 2023 – In a recent financial earnings call, Intel's CEO, Pat Gelsinger, unveiled their latest undertaking in the world of advanced computing. Referred to as "Falcon Shores 2," this next-generation AI supercomputing chip is slated for a prospective release in 2026.
The Falcon Shores 2 chip is set to carry forward the foundational principles of its predecessor, the first-generation Falcon Shores chip. It's designed with a distinct focus on artificial intelligence and supercomputing capabilities. Much like its predecessor, Falcon Shores 2 will retain its modular design, enabling seamless integration with GPUs, AI accelerators, and third-party CPUs.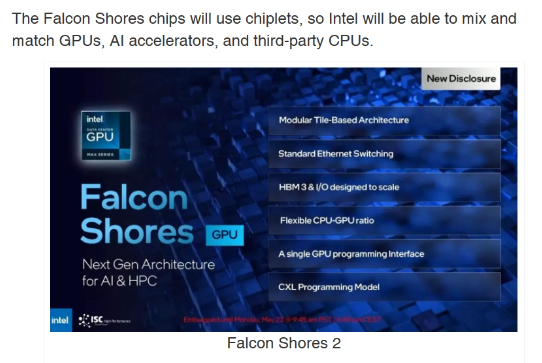 Industry observers, such as the renowned publication HPCwire, suggest that Intel's decision to launch the Falcon Shores 2 chip in 2026 could be a strategic move to directly respond to competitive pressure from rivals like AMD and NVIDIA.
While Pat Gelsinger revealed little about the intricate technical details of Falcon Shores 2 during the earnings call, it's anticipated that these specifics will be disclosed at Intel's upcoming Innovation Developer Expo scheduled for next month.
Beyond the Falcon Shores 2 chip, Pat Gelsinger also provided insights into other Intel ventures, including the forthcoming AI-centric chip series named Gaudi. Notably, Gaudi2 has already entered the market, while Gaudi3 remains in the developmental stages.
Intel's proactive engagement in AI and supercomputing innovations highlights their commitment to maintaining their standing in these cutting-edge fields. As they navigate the competitive landscape, Intel's strategic decisions, exemplified by the Falcon Shores 2 chip, underscore their dedication to pushing the boundaries of technology and propelling the industry toward new horizons.