August 3, 2023 – In a recent interview with Yahoo Finance, Pat Gisinger, the CEO of Intel, discussed the current market situation and vision for personal computers (PCs) as well as his outlook on the AI domain.
During the interview, when asked about Nvidia, Gisinger didn't hold back his praises. He closely monitored Nvidia's achievements in the AI field and openly acknowledged that they are currently the leaders in this domain.
"I must say, Nvidia has been doing exceptionally well in this field. They have truly set the trends and, as I often mention, their hard work and timely breakthroughs in algorithms have paid off."
Gisinger believes that the AI field is still relatively young, offering plenty of opportunities in the future. He expressed optimism, stating, "We are starting to make a mark, gaining customers, and igniting genuine enthusiasm because the market demands alternatives."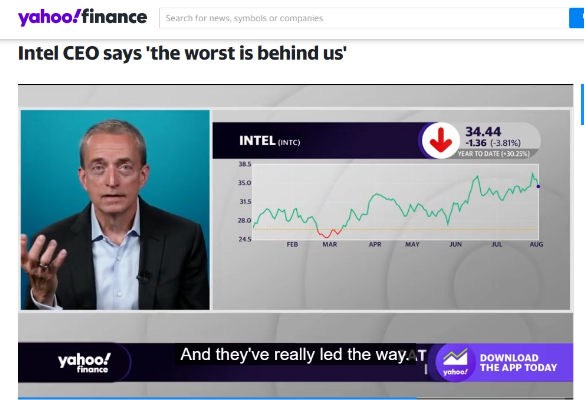 He also revealed that the second quarter of 2023 marked a return to profitability for Intel after several quarters of decline. "I genuinely believe that the worst is behind us. As you know, we've raised performance targets for the third quarter, signaling a more optimistic future."
During the interview, Gisinger emphasized several AI-related products, including the fifth-generation Emerald Rapids server chip, expected to launch in the third quarter of 2023, slightly ahead of the initial plan for the fourth quarter. Additionally, the Meteor Lake series, set to be released in the latter half of this year, was dubbed the "AI PC" due to its integration of AI-enhanced functionalities and being the first consumer-level chip with an embedded neural processor capable of handling various machine learning tasks, contributing to the future development of AI.
Prior to this interview, Gisinger had expressed a "very optimistic" attitude towards AI in a recent earnings call for the second quarter of the year. Intel's plan to incorporate AI into every future product solidifies their commitment to advancing AI technology.