**August 25, 2023 – Revamp in China's Auto Market: Ford Unveils Surprisingly Affordable Next-Gen Ranger**
In the midst of China's ever-evolving automobile landscape, even the loftiest joint venture brands find themselves recalibrating their strategies. Today, this transformation takes center stage as Ford launches the eagerly anticipated next-generation Ford Ranger 1st Edition, marking a pivotal moment for discerning car enthusiasts. The price tag of ¥269,800 for this limited release of 800 units might not be headline-grabbing, but what truly turns heads is the announcement made during the unveiling event: Ford vows that the base price for the new Ranger will not exceed ¥160,000.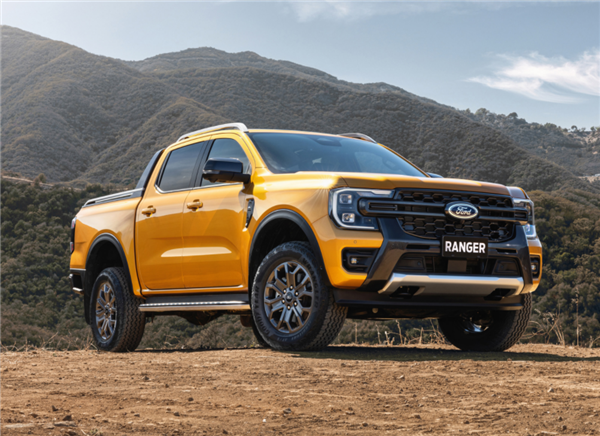 Consider this revelation against the backdrop of a market where the Ford F-150 Raptor commands over ¥720,000, and yet its smaller counterpart, the Ranger, touted as the "Little Raptor," boasts an astonishing sub-¥160,000 starting price. The disparity is nothing short of staggering.
Embracing a design philosophy consistent with its global edition, the new Ranger boasts a revamped front fascia characterized by an expanded grille adorned with dual horizontal bands, forming a seamless union with the distinctive "C" shaped LED headlights. The imposing presence is further underscored by the matrix-style LED illumination, unarguably emanating a flair reminiscent of its larger kin, the Raptor.
Viewed from its profile and rear, the new model retains the quintessential pickup truck form, complete with a double-cab cabin and a capacious cargo bed. Atop the cargo bed, robust cargo rails stand ready for utilitarian tasks. The tail lights, adopting an "8" shaped design, gracefully protrude outward, aligning harmoniously with Ford's contemporary design ethos and amping up the vehicle's aesthetic sophistication.
Inside, the cabin ambiance leans towards ruggedness, harmonizing function and style. Anchoring the dashboard is a generous 12-inch all-digital display, complemented by a choice between 10.1-inch and 12-inch central touchscreens for multimedia control. The cutting-edge SYNC 4 infotainment system takes the center stage, standard with wireless Android Auto and Apple CarPlay integration. Notably, the domestic version reimagines the gear lever layout, placing the four-wheel-drive mode selector in the center and moving the rear differential lock switch rearwards for more intuitive access, aligning with Chinese driving preferences.
When it comes to propulsion, the new Ranger offers a duo of powertrains: a 2.3-liter turbocharged gasoline engine and a 2.3-liter turbocharged diesel engine. The former churns out a peak torque of 450 Nm and is mated to an 8-speed automatic transmission.
In an industry landscape rife with dynamism, Ford's strategic pivot with the unveiling of the new Ranger signifies not just a product launch, but an unequivocal statement of their commitment to capturing the imagination of the modern Chinese driver.