July 4, 2023 – Tesla's German website has unveiled exciting news for car enthusiasts. The highly anticipated Tesla Model Y rear-wheel drive version is now available in Germany, and it comes with two stunning new color options exclusive to the Berlin Gigafactory. The factory's state-of-the-art paint shop introduces the mesmerizing Midnight Cherry Red and the sleek Quicksilver, offering customers a diverse range of choices to personalize their Model Y.
The introduction of these unique colors signifies the accelerated production of the Model Y rear-wheel drive variant at the Berlin Gigafactory. Previously, the European market received the rear-wheel drive Model Y models manufactured at the Shanghai Gigafactory. Tesla's commitment to expanding production capabilities and catering to local markets showcases their dedication to delivering top-quality electric vehicles across the globe.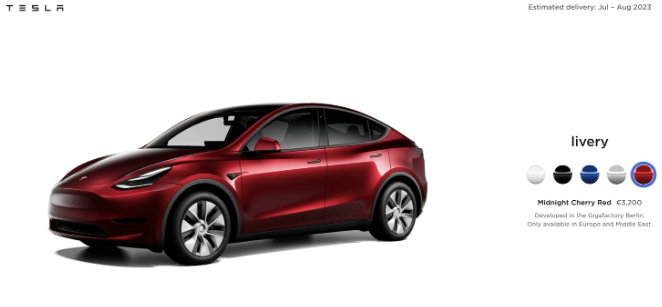 In addition to the new color options, Tesla has also made adjustments to its offerings in the North American market. The standard color option has been updated from white to the sophisticated Midnight Silver, providing customers with a sleek alternative at no additional cost. However, for those seeking an exquisite touch, the Pearl White Multi-Coat finish is available for an extra $1,000, allowing owners to indulge in a luxurious and distinctive aesthetic.
With these updates, Tesla continues to redefine the electric vehicle market by providing customers with a wide range of customization options and cutting-edge technology. The Model Y rear-wheel drive version, now proudly manufactured in Berlin, joins the lineup alongside the Long Range and Performance variants. In Germany, the rear-wheel drive Model Y is priced at €44,890, while the Long Range and Performance versions are priced at €54,990 and €60,990, respectively.
Tesla's relentless pursuit of innovation and customer satisfaction is evident in its efforts to diversify color options and expand production capabilities. Whether it's the vibrant Midnight Cherry Red or the sleek Quicksilver, Tesla ensures that each Model Y reflects the unique tastes and personalities of its owners. As the automotive industry shifts towards sustainable solutions, Tesla remains at the forefront, captivating the world with its visionary electric vehicles.