July 13, 2023 – As Toyota continues its comprehensive push towards electric vehicles, it has recently unveiled plans for an ultimate version of its Toyota Supra, marking the grand finale of the era of internal combustion engines. Departing from its current collaboration with BMW, which resulted in the current generation Supra based on the BMW Z4, Toyota intends to take the Supra's performance to the next level by incorporating technology from BMW's esteemed M division.
According to reports from Japanese media, Toyota's upcoming Supra GRMN will be equipped with a potent 3.0-liter inline-six twin-turbo engine borrowed from the BMW M4 CSL. This powertrain is expected to generate a staggering 543 horsepower (405 kW / 551 PS) and a maximum torque of 650 Nm, ensuring exhilarating performance on the road.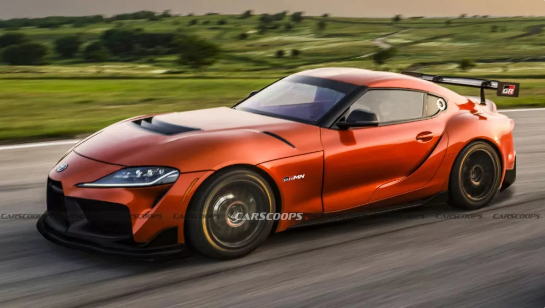 Beyond the engine upgrade, Toyota has ambitious plans to enhance the Supra's overall driving dynamics. This includes implementing a firmer and lower suspension setup, larger brakes for improved stopping power, and a more agile specialized system. Moreover, weight reduction measures will be implemented to further elevate the speed capabilities of the Toyota Supra.
To complement its increased performance, the Supra GRMN is likely to receive a redesigned body kit, aimed at enhancing both the aesthetics and aerodynamic performance of the GR Supra. Enthusiasts can anticipate the presence of unique bumpers, distinguished GRMN badging, a larger rear spoiler, and new, larger alloy wheels, all contributing to a more aggressive and purposeful appearance.
Toyota's dedication to the development of an ultimate Supra showcases its commitment to the transition towards electric mobility while bidding a spectacular farewell to the era of traditional combustion engines. The forthcoming Supra GRMN, equipped with BMW's exceptional engineering, promises to deliver an unrivaled driving experience and solidify its status as a formidable sports car in the industry.