September 13, 2023 – New York, USA In the early hours of September 13, the tech world witnessed a highly anticipated event, often referred to as the "Tech Gala." During this extravaganza, a total of seven new products were unveiled, creating waves of excitement among tech enthusiasts. These releases included four new smartphones, two cutting-edge smartwatches, and an innovative chipset.
Apple took center stage by officially introducing its iPhone 15 series, comprising four distinct models: iPhone 15, 15 Plus, 15 Pro, and 15 Pro Max. However, the event was not solely about smartphones. Apple also unveiled two new additions to its smartwatch lineup: the Apple Watch Series 9 and the Apple Watch Ultra 2. Additionally, Apple introduced the highly anticipated A17 PRO chipset, which made its debut with the iPhone 15 Pro and 15 Pro Max.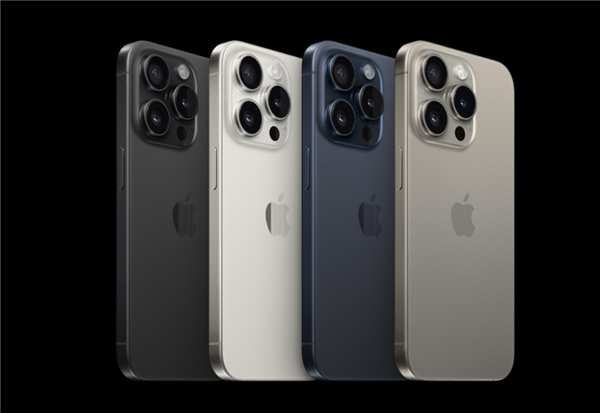 One of the standout features introduced during this event was the dynamic display capabilities of these devices when users switch certain applications to the background, such as music apps. This innovation, known as the "Dynamic Island," presents these applications in a new and interactive format, allowing users to perform more complex tasks with a simple tap, such as changing songs seamlessly.
1. **iPhone 15 Pro Series: The Pinnacle of iPhone Evolution**
Taking a closer look at the iPhone 15 Pro series, it's evident that Apple has refined even the minutest details. While the initial glance may not reveal substantial changes, there are noteworthy improvements in the finer aspects.
The introduction of a titanium alloy frame marks a significant change, with Apple utilizing a Grade 5 titanium, similar to the material used on Mars rovers. Meticulous processing, polishing, brushing, and sandblasting techniques have resulted in four exquisite color options: Black Titanium, White Titanium, Blue Titanium, and Natural Titanium.
This innovative approach has made the iPhone 15 Pro series the lightest iPhone Pro models in history. The curved design of the corners enhances the overall grip, eliminating the discomfort of sharp edges.
Apple has bid farewell to the traditional physical mute switch on the frame, replacing it with a customizable physical button. Users can now long-press this button to activate the mute function or customize it for other functionalities like flashlight, quick commands, camera access, magnifier, translation, and more.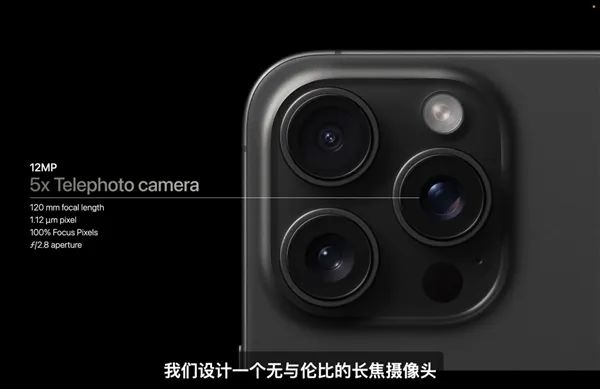 With screen sizes of 6.1 inches for the iPhone 15 Pro and 6.7 inches for the iPhone 15 Pro Max, these models continue to utilize the punch-hole design pioneered by the Dynamic Island. However, the bezels have been further reduced, making it the iPhone with the narrowest bezels in history.
The highlight of the iPhone 15 Pro is undoubtedly its performance. It boasts the world's first 3nm chipset—the A17 Pro. This marks Apple's first use of the "Pro" moniker for its A-series processors.
The A17 Pro packs a staggering 190 billion transistors, featuring a 6-core CPU, including 2 high-performance cores and 4 efficiency cores. The neural engine performs a mind-boggling 350 trillion operations per second and supports AV1 decoding and USB 3, boasting a maximum transfer speed of 10Gbps.
The GPU upgrade is equally impressive, featuring Apple's custom-designed shader architecture with a 6-core configuration. It offers a 20% performance boost and introduces hardware-level ray tracing support, delivering speeds four times faster than the software-based ray tracing on the A16 Bionic.
Thanks to this major upgrade, the iPhone can now run PC and console games directly. Titles like "Resident Evil 4" and "Assassin's Creed: Phantom" are set to make their debut on the iPhone.
In the camera department, the iPhone 15 Pro continues to feature a triple-camera setup. The primary camera utilizes a 48-megapixel sensor with a quad-bayer design, defaulting to 24-megapixel output. It also incorporates a 12-megapixel 3x telephoto lens and a 12-megapixel ultra-wide-angle lens. This versatile system covers focal lengths of 24mm, 28mm, and 35mm.
The iPhone 15 Pro Max takes things a step further with a 5x periscope-style telephoto lens sporting a 12-megapixel sensor and employing a four-prism design. The sensor size is 25% larger than that of the 14 Pro Max. The ultra-wide-angle lens also receives an upgrade, now featuring a 12-megapixel sensor with macro capabilities. The system allows for shooting across seven different focal lengths, including macro shots, at 13mm, 24mm, 28mm, 35mm, 48mm, and 120mm.
A new lens coating reduces lens flares, potentially addressing ghosting issues, and improves low-light imaging for portrait and night modes.
Notably, the iPhone 15 Pro series introduces support for spatial video capture when used in conjunction with the Vision Pro accessory.
As for pricing, the iPhone 15 Pro comes in four storage configurations: 128GB for $799, 256GB for $899, 512GB for $1099, and a whopping 1TB for $1299. The iPhone 15 Pro Max offers three storage options, starting at $999 for 256GB, $1199 for 512GB, and $1399 for 1TB. Pre-orders for both models begin on September 15th, with official release scheduled for September 22nd.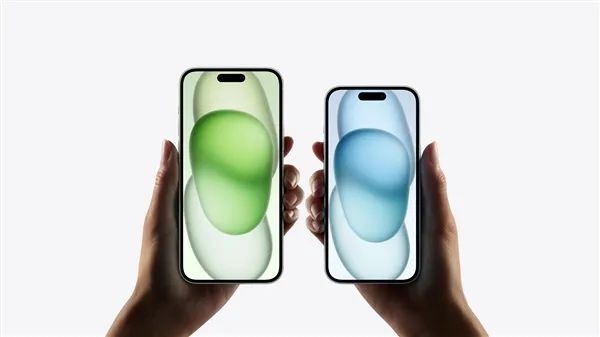 2. **iPhone 15 Series: Embracing the Dynamic Island**
The iPhone 15 series embraces the Dynamic Island design, similar to the iPhone 14 Pro, abandoning the notch. Additionally, it inherits the interactive features of the Dynamic Island from the iPhone 14 Pro.
The Dynamic Island adapts its form when there are incoming calls, messages, or notifications, offering an intuitive way for users to receive information.
Another intriguing aspect of the Dynamic Island is its ability to display applications in a different format when users switch them to the background, such as music apps. Users can interact with this area, enabling more advanced actions like changing tracks seamlessly.
In terms of displays, the iPhone 15 series introduces the Super Retina XDR screen, with brightness reaching up to 1600 nits and a peak brightness of 2000 nits.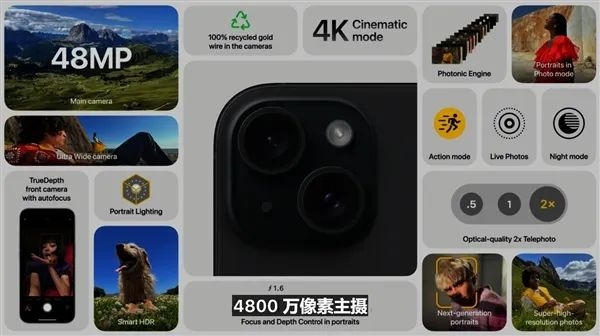 Photography-wise, both the iPhone 15 and 15 Plus are equipped with a 48-megapixel primary camera that offers 2x optical zoom through cropping. In standard photo mode, the camera automatically captures depth information when it detects subjects, allowing users to adjust aperture effects and focus points after taking a shot.
Under the hood, the iPhone 15 and iPhone 15 Plus are powered by the Apple A16 Bionic chip, featuring an impressive 160 billion transistors. The CPU comprises 6 cores, including 2 high-performance cores and 4 power-efficient cores. Performance is boosted by 40%, and the inclusion of a USB-C port enhances connectivity options. Both models support satellite communication.
In terms of color options, the iPhone 15 and iPhone 15 Plus introduce a new Pink color variant with a matte glass back for a better tactile feel.
Pricing for the iPhone 15 starts at $599 for the 128GB model, $699 for 256GB, and $899 for 512GB. The iPhone 15 Plus starts at $699 for 128GB, $799 for 256GB, and $999 for 512GB.
3.
**iPhone 13/14 Phased Out and Price Reductions**
With the launch of the iPhone 15, Apple swiftly adjusted its existing product lineup. The iPhone 14 Pro series has been phased out, while the iPhone 14 series has seen price reductions. The iPhone 13 has also received price cuts, making it more accessible to consumers. The iPhone 13 Mini has been discontinued, signaling the end of the era for compact-sized iPhones. The iPhone 12 has been removed from the lineup, while the iPhone SE 2022 retains its pricing.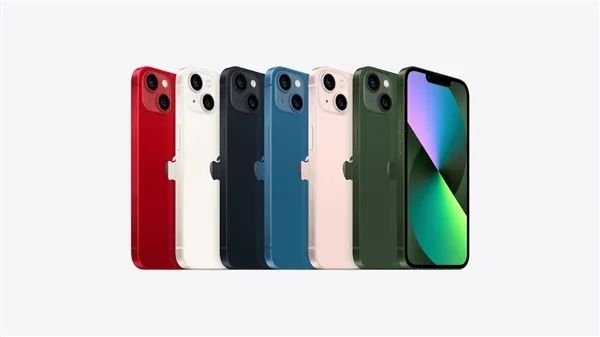 The iPhone 14 now starts at $5399, with the iPhone 14 Plus starting at $5999. The iPhone 13, previously priced at $5399 for 128GB, $6299 for 256GB, and $8099 for 512GB, has now seen price reductions to $4699, $5699, and $7699, respectively. These reductions represent a consumer-friendly move by Apple.
For users who are price-sensitive and seeking an entry-level Apple device, the iPhone SE (2022) remains available at the same prices: 64GB for $3499, 128GB for $3899, and 128GB for $4699.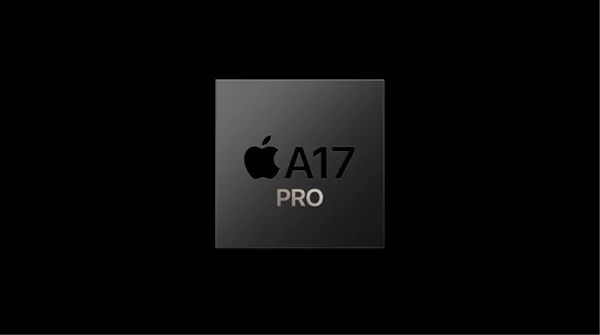 4. **A17 PRO Chipset: 3nm and 190 Billion Transistors**
As expected, the iPhone 15 Pro series introduced a brand-new processor, the A17 PRO. This chipset represents a significant evolution over its predecessor, the A16, boasting advanced manufacturing technology, with a move from TSMC's 4nm process to the cutting-edge 3nm process. The transistor count has also seen a substantial increase, jumping from 160 billion to a staggering 190 billion.
The CPU configuration remains consistent with 6 cores, including 2 high-performance cores and 4 efficiency cores. However, microarchitecture enhancements have been made, with improved branch prediction and widened decode and execution engines, resulting in a claimed 10% speed boost for the performance cores.
The efficiency cores are touted to be the most power-efficient mobile CPU cores, offering three times the efficiency compared to competing cores (though specific competitors are not named).
The neural engine remains at 16 cores, but its computational power has nearly doubled, reaching 35 trillion operations per second (TOPS).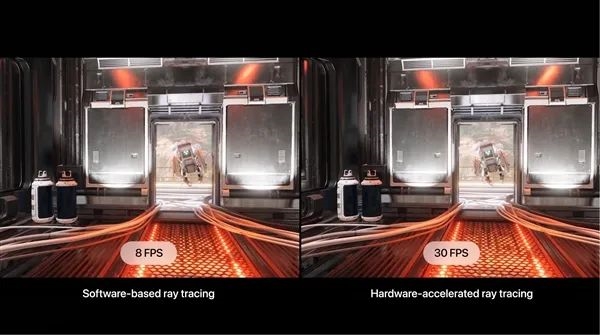 Apple has introduced a standalone video engine and display controller, offering native support for AV1 video decoding but lacking encoding capabilities.
A new addition is the USB3 controller, providing support for USB 3.0 specifications with a 10Gbps transfer bandwidth. Coupled with the new USB-C interface, it enhances convenience, though users will need a separate data cable.
The most significant transformation occurs in the GPU department, justifying the "PRO" moniker. The core count has increased from 5 to 6, and an entirely new architecture has been implemented. The peak performance has surged by 20%, and the introduction of Mesh Shading brings hardware-level ray tracing support for the first time. Apple claims that the A17 PRO offers better ray tracing performance than any other smartphone, with a remarkable 4x improvement over the software-based ray tracing on the A15.
Notably, this year sees the arrival of 3DMark's ray tracing benchmark on iOS, opening up the potential for ray tracing in mobile gaming. While Qualcomm and MediaTek have long supported hardware-accelerated ray tracing, the adoption and utilization of this feature in mobile gaming have been slow. With Apple's entry into this space, it is expected to accelerate the availability of ray tracing-enhanced mobile games.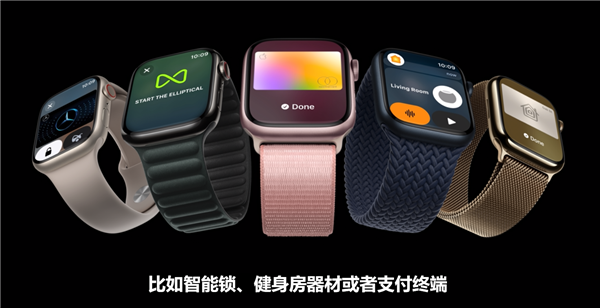 5. **Apple Watch Series 9: Beyond Expectations with New Gestures**
The Apple Watch Series 9 introduces an innovative gesture called "Dual-Finger Tap," hailed as an extraordinary addition. This gesture involves tapping your index finger and thumb together and serves various functions, making it especially useful when one hand is occupied. Users can customize this gesture for tasks such as answering calls, dismissing alarms, remotely triggering the camera, or controlling TV playback, among other possibilities.
The implementation of "Dual-Finger Tap" is made possible by the formidable neural network engine of the Apple Watch Series 9, powered by the S9 chip, which boasts 56 billion transistors.
The Apple Watch Series 9 offers a display with a peak brightness of 2000 nits and a minimum brightness of just 1 nit. Despite the enhanced capabilities, it still maintains an impressive 18-hour battery life.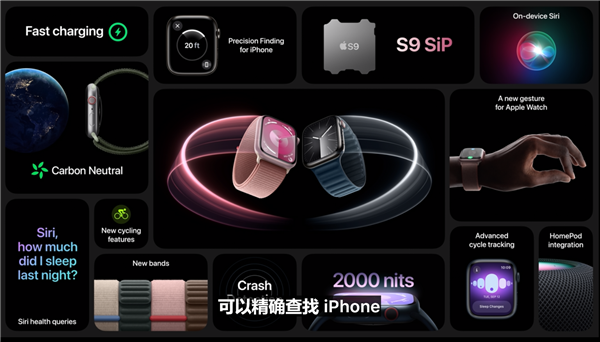 Furthermore, the Apple Watch Series 9 features precise location tracking for your paired Apple iPhone, offering accurate directional and distance information, even if your iPhone is in another room.
In terms of design, the aluminum case of the Apple Watch Series 9 introduces a new Pink color option, alongside Stardust, Silver, Midnight, and Red. The stainless steel variant offers finishes in Gold, Silver, and Graphite.
Siri has also received enhancements on the new smartwatch, supporting offline voice commands for uninterrupted performance, even in challenging network conditions. Users can directly inquire about their health data via voice commands on the watch.
Pricing for the aluminum Apple Watch Series 9 starts at $299, with options for GPS-only or GPS + Cellular connectivity. The stainless steel variant starts at $579, and all models come with both GPS and Cellular capabilities.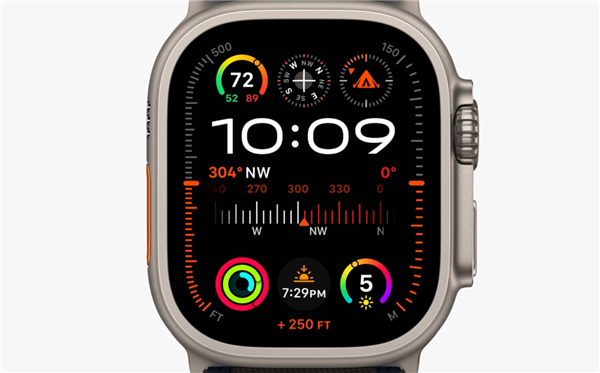 6. **Apple Watch Ultra 2: Apple's Brightest Screen Yet**
The Apple Watch Ultra 2 is powered by the Apple S9 SiP chip, featuring a peak screen brightness of 3000 nits—the brightest display ever seen in an Apple product. It achieves this feat through a light sensor that enables automatic switching to Night Mode for comfortable nighttime use.
The device also supports UWB (Ultra-Wideband) technology and offers a standard battery life of 36 hours, which can be extended to 72 hours in low-power mode.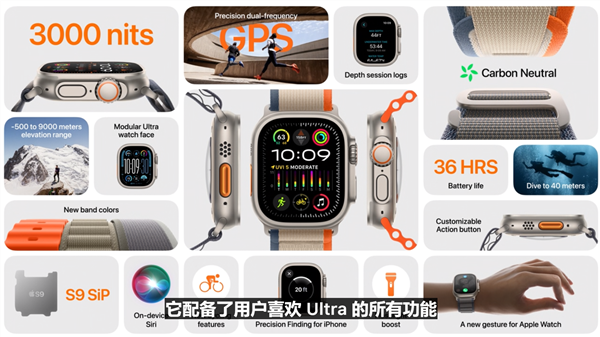 Design-wise, the Apple Watch Ultra 2 retains its titanium alloy construction, with a key addition: altitude support ranging from -500 to 9000 meters. This means users can take it along on high-altitude adventures, including scaling the heights of Mount Everest.
Similar to the Apple Watch Series 9, the Ultra 2 features the "Dual-Finger Tap" gesture, providing a versatile means of interaction.
Pricing for the Apple Watch Ultra 2 starts at $6499.