November 06, 2023 – Tesla's Cybertruck, the electric pickup truck, has been turning heads with its unique exterior design. Crafted from stainless steel and featuring a distinctive polygonal shape, opinions on its aesthetics vary widely. Some are drawn to its futuristic appeal, while others find its appearance rather peculiar and unattractive. Previously, the Cybertruck had mostly been showcased in stainless steel or adorned with eye-catching camouflage or design-themed decals. However, a new development has caught the attention of enthusiasts – the matte black version of the Cybertruck has made its debut in the real world.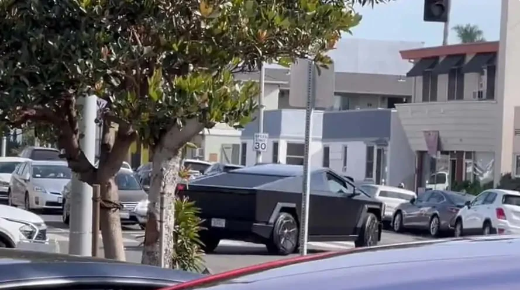 This sleek black Cybertruck was first spotted at a Tesla coffee meet-up in Santa Monica, and what's more intriguing is that it was being driven by none other than Tesla's Chief Designer, Franz von Holzhausen.
The fact that Franz von Holzhausen was personally behind the wheel of this black beauty hints at the possibility of Tesla introducing a matte black version of the Cybertruck or offering this color as an option. Tesla has recently released colored wraps for the Model 3 and Model Y, so a similar option for the Cybertruck wouldn't come as a surprise, especially considering that painting the stainless steel body of the Cybertruck can be challenging.
It's worth noting that Tesla's CEO, Elon Musk, mentioned on a podcast on October 31 that Tesla's aim is to produce 200,000 units of the Cybertruck annually. The company had previously stated its capability to produce over 125,000 Cybertrucks per year, with Musk suggesting that the number could go up to 250,000 by 2025. Furthermore, Musk disclosed that production of the Cybertruck is slated to begin at some point in 2024.