May 10, 2023 – Chinese electric vehicle maker, Faraday Future, has secured $100 million in unsecured convertible bonds to support the production, sales, and service system development of its flagship vehicle, the FF 91. The financing round was led by Metaverse Horizon Limited, an independent investment fund, whose investors include FF Global Partners (FFGP) and V W Investment Holding Limited, a related party of a long-term shareholder of the company.
The initial delivery amount of the financing round is $15 million and is expected to be completed within five business days after the fulfillment or waiver of certain delivery conditions, including a valid registration statement related to the shares, sufficient authorized but unissued and uncommitted Class A common shares, and the achievement of certain delivery milestones. There will be seven additional deliveries, with each delivery occurring within 15 business days of the previous delivery.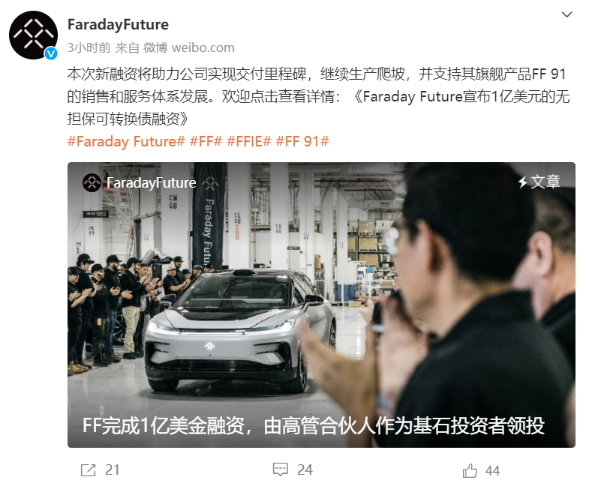 Faraday Future will have a third-party beneficiary right in the equity commitment letters between FF and FFGP and V W Investment Holding Limited's sole shareholder, which allows it to force delivery or seek compensation under certain restrictive conditions. The company may not be able to recover losses caused by any breach of obligation by these investors, and it may also not receive the funding due to such breach. The details of the unsecured notes, warrants, securities purchase agreement, and equity commitment letter terms, conditions, and funding schedule can be found in the 8-K form submitted by the company to the US Securities and Exchange Commission.
In addition, the company has signed the eighth amended agreement of the securities purchase agreement and made revisions to certain secured notes, warrants, and employee stock purchase plan, including waiving certain preemptive rights and fully diluted anti-dilution price protection related to unsecured notes, warrants, and employee stock purchase plan and unifying the conversion price and interest compensation of secured and unsecured notes. The first FF 91 production car was rolled out on April 15, 2023. However, the delivery of the first batch of FF 91 Futurist, originally scheduled for April, has been postponed to the end of May due to supply chain issues.