May 17, 2023 – A new day dawns in the bustling city of New York, USA. Amidst the vibrant atmosphere, Fire-Boltt unveils its latest innovation, the Fire-Boltt Shark smartwatch, captivating adventure enthusiasts and technology aficionados alike.
Embracing a rugged and robust design, the Fire-Boltt Shark smartwatch sets its sights on outdoor pursuits, empowering users to embark on thrilling escapades with confidence. With an impressive IP67 waterproof rating, this timepiece fearlessly withstands immersion in water up to one meter deep for a remarkable duration of 30 minutes. Whether exploring treacherous trails or taking a refreshing dip, the Fire-Boltt Shark remains undeterred.
Greeting the wearer on the front panel is a 1.83-inch high-definition display, boasting a resolution of 240×284. This vibrant screen ensures crystal-clear visibility, delivering information at a glance. Equipped with a built-in speaker and microphone, the smartwatch facilitates seamless Bluetooth calling, enabling effortless communication on the go.
The Fire-Boltt Shark smartwatch doesn't just accompany outdoor adventurers; it empowers them with an array of features tailored to their active lifestyles. With over 120 built-in sports modes, this remarkable timepiece caters to diverse athletic endeavors, elevating the fitness experience. Furthermore, it embraces holistic well-being with specialized functions such as women's healthcare tracking, sleep monitoring, step counting, blood oxygen level measurement, and heart rate monitoring. This comprehensive suite of features ensures users stay attuned to their bodies, making informed decisions for optimal performance and vitality.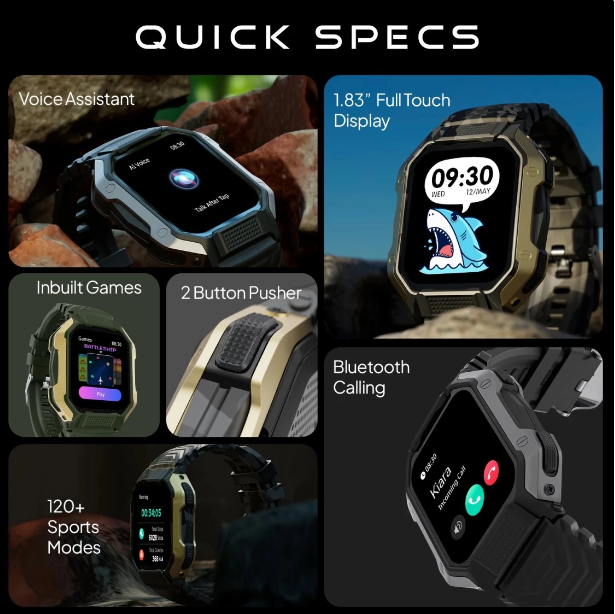 Battery life is a paramount concern for any smartwatch, and Fire-Boltt addresses it admirably. The official claims boast an impressive standby time of up to 25 days, with the classic mode offering a commendable usage duration of 8 days. This longevity allows users to venture into uncharted territories without fretting over battery drain.
Adding a touch of personal style, the Fire-Boltt Shark smartwatch comes in four captivating color options: Black, Camo Black, Black Gold, and Gold Green. Whether you prefer a sleek and understated look or a bold statement piece, there's a shade to match every taste. Currently, the Fire-Boltt Shark can be acquired through Flipkart, retailing at a price of 1799 Indian Rupees (approximately 152 Chinese Yuan Renminbi).
As the sun sets on this remarkable day in New York, the Fire-Boltt Shark smartwatch emerges as a true companion for the adventure-seeking souls, melding durability, functionality, and style in a single wrist-bound marvel. With its steadfast performance and comprehensive features, this smartwatch propels explorers towards new horizons, leaving no challenge unmet.