June 14, 2023 – AMD Unveils Bergamo Processor for Cloud Computing AMD made an exciting announcement yesterday during its highly anticipated event in San Francisco. The tech giant introduced a groundbreaking addition to its fourth-generation EPYC processor family, codenamed Bergamo. This new processor aims to cater specifically to the rapidly growing demands of high-performance cloud computing, solidifying AMD's position as a key player in the field.
Building upon the success of their existing Genoa lineup, which boasts advanced features such as a 5nm process, PCIe 5.0, CXL expansion technology, and DDR5 support, AMD takes a significant step forward with the Bergamo processor. While Genoa targets a wide range of applications, Bergamo focuses primarily on addressing the needs of the cloud computing industry from a business perspective.
The Bergamo processor impresses with its remarkable capabilities. Packed with a staggering 82 billion transistors, this powerhouse can offer up to 128 Zen 4c cores, supporting a whopping 256 threads. Compatible with x86 ISA instructions, it caters to the demands of deep cloud computing applications. This processor sets a new standard for vCPU density, providing the highest number of virtual CPUs AMD has ever offered.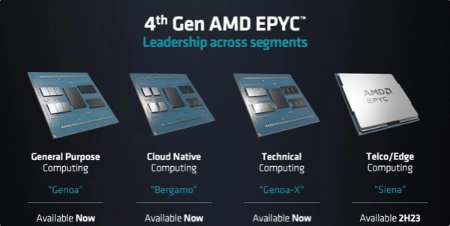 During the event, Dr. Lisa Su, CEO and President of AMD, expressed her enthusiasm about the Bergamo processor. She highlighted its unparalleled energy efficiency, boasting a 2.7x improvement compared to AMD's previous EPYC processors. Furthermore, Bergamo offers three times the container capacity, enabling businesses to maximize their cloud computing resources effectively.
Dr. Lisa Su emphasized AMD's commitment to driving innovation and providing robust solutions for the business market. In addition to their EPYC processors for server-level deployments, AMD also offers AMD Instinct and AMD ALVEO for AI computing, AMD ALVEO and AMD VERSAL for FPGA and Adaptive SoC solutions, and AMD ALVEO and Pensando for SmartNIC and DPU applications. The Bergamo processor, unveiled at this event, represents AMD's latest endeavor in meeting the evolving needs of the server market.
With the introduction of the Bergamo processor, AMD continues to solidify its position as a driving force in the world of cloud computing. The remarkable performance, energy efficiency, and expanded capabilities of the Bergamo processor make it a compelling choice for businesses seeking to enhance their cloud computing infrastructure and unlock new possibilities for their applications.