July 3, 2023 – Samsung's upcoming Galaxy Unpacked event scheduled for July 26th in Seoul has been creating quite a buzz. Tech enthusiasts worldwide eagerly await the unveiling of Samsung's highly anticipated devices, the Galaxy Z Fold 5 and Z Flip 5, at this event. The leaked information surrounding the Galaxy Z Fold 5 suggests that it will come preloaded with Android 13 instead of the anticipated Android 14. Additionally, it is expected that both the Z Fold 5 and Z Flip 5 will run on the One UI 5.1.1, a variant of Samsung's user interface.
According to insider @TECHINFO45, the Galaxy Z Fold 5 is said to feature a large 7.6-inch primary screen with a resolution of 2176×1812. The outer screen, on the other hand, will measure 6.2 inches with a resolution of 2316×904. Both displays will utilize OLED technology and offer a smooth 120Hz refresh rate. Powering the device will be Qualcomm's Snapdragon 8 Gen 2 mobile platform, boasting a core frequency of 3.36GHz, similar to the customized mobile platform used in the S23 series.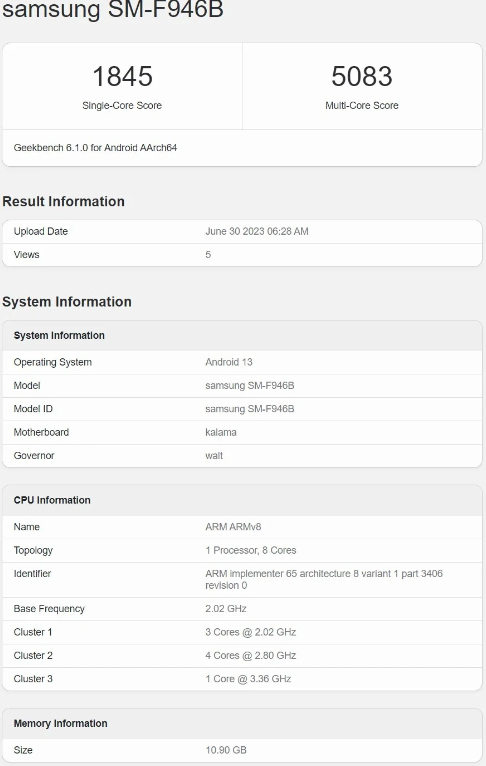 In terms of photography capabilities, the Galaxy Z Fold 5 is expected to sport a rear camera setup consisting of a 50-megapixel main camera, a 12-megapixel ultra-wide-angle lens, and a 10-megapixel telephoto lens. The front camera setup will likely include a 10-megapixel camera and a 4-megapixel camera. The device will be equipped with a 4400mAh battery, supporting fast charging of up to 25W.
Moreover, the Galaxy Z Fold 5 is rumored to offer support for Wi-Fi 7, Bluetooth 5.3, and USB-C 3.2. It will run on Samsung's customized version of Android 13, the One UI 5.1 operating system. An official poster released by mysmartprice showcases the device with a blue-colored back cover and the option to use an S Pen stylus.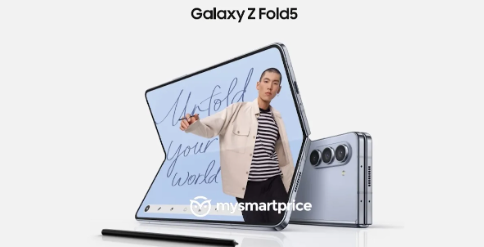 Notably, the Galaxy Z Fold 5 seems to have addressed one of the major concerns of its predecessors. The foldable phone eliminates the visible folding crease, resulting in a seamless display when folded shut. Additionally, the device is expected to feature narrower bezels compared to its predecessor, enhancing the overall visual experience.
As exciting as these leaks and rumors may be, it's important to note that official confirmation is still pending. We'll have to wait for the Galaxy Unpacked event to get the official details about the Samsung Galaxy Z Fold 5 and Z Flip 5. Nonetheless, with the reported improvements and innovative features, Samsung fans and tech enthusiasts are eagerly counting down the days to witness the next chapter in Samsung's foldable smartphone journey.